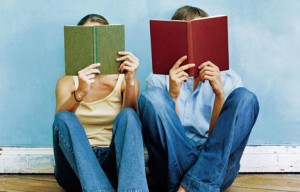 Last Friday, March 22, I met with a group of eighth graders and their teacher. Mrs. Allison had invited me to come in and speak with the kids in her class who most loved to read and could provide me with quick feedback on The Portal's Choice, featuring Tallis Challinor. I had a great discussion about books and writing with approximately a dozen bright, articulate and welcoming teens that could and did tell me a thing or two about young adult fiction. Thanks to all of them for being so open with me. I had a great time.
This Friday, I return to meet with the group and hear their feedback about my book. I intend to ask them where they see Tallis and the series, The Gatekeepers of Em'pyrean, heading.  I know the direction I plan to take with the series, but I want to check in with the experts for their opinions.
In addition to chatting with the group, their teacher, Mrs. Allison, asked me if I'd be willing to lead a writing group once a week with these same students. First, I have to say that I am honored to have been asked. Second, I can't imagine not answering in the affirmative. What an amazing opportunity for me, as a young adult author, to be mentored by my audience as I continue down my path. And, if I can provide inspiration, encouragement, and maybe even some guidance, I'm happy to do so. I think it will be a positive experience for all of us involved.
I will be posting the reviews from these teens as well as several other teenage and adult readers who currently have edits copies of The Portal's Choice as the reviews come in. I do have one review in, and in the next post I'll detail what I've learned so far from this part of the editing process.
Picture courtesy of eternalbibliophile on Tumblr